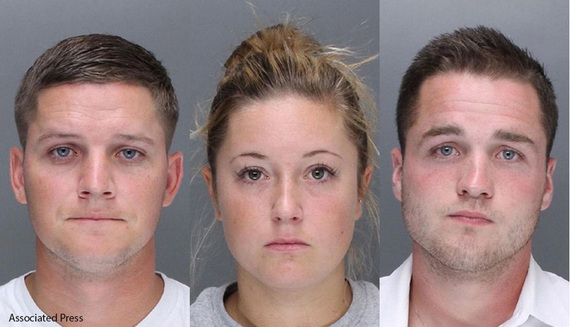 As long as heteronormativity continues to dominate mainstream thinking, promote sexual oppression and place homosexuality at the amoral end of its sexual hierarchy, acts of sexual terrorism will continue to be committed against homosexuals. As long as gay people are stigmatised and vilified for practices that straight people practice also, there will always be the gay slurring and brutal gay bashing that happened on the streets of Philadelphia on Thursday 11th September 2014, forcing LGBTQ people everywhere to live in constant fear for their lives.
According to their Defense Attorneys, on Thursday 11th September 2014, Phillip Williams (24), Kathryn Knott (24) and Kevin Harrigan (26) did not commit an act of sexual terrorism against two homosexual males, they were involved in a "mutual confrontation"; a simple "fist fight that got out of hand". According to various news outlets highlighting their 'surrender' in reports on Wednesday 24th September this was neither a fist fight nor a confrontation, this was a 'beating'; a 'late night encounter'. According to the gay slurs hurled before, during and after their vitriolic attack on two gay men aged 27 and 28 that resulted in both men being hospitalized due to the severity of their injuries, what happened that night on Chancellor street in Philadelphia, PA was a hate crime and should be treated as such, but because Pennsylvania's current hate crime law does not extend to include those crimes motivated by a person's perceived sexual orientation, sadly, this is not to be the case.
This means that the best justice both victims can hope for are reduced convictions for aggravated assault, simple assault and reckless endangerment of another person. This severely undermines the rights of all LGBTQ people to feel safe and protected by the law of the land they live in and makes the declaration made by District Attorney Seth Williams that 'an assault on people because of their sexual orientation has no place in Philadelphia' fraudulent as long as legislature in the state of Pennsylvania continues to protect homophobes from their homophobia and persecute homosexuals for being homosexual.
"Three guys just started pummeling me, and knocked me to the ground. I hit the ground hard and I was out hard."
There is significant racial bias in the way corporate media reports acts of violence when those acts of violence are committed by whites. The severity of the incident is often reduced by the rhetoric used to report it. The attackers have been called a 'well dressed crew' rather than what they actually are – thugs; a gang of up to a dozen adults who beat two males so badly that between them they sustained an orbital fracture, extensive facial injuries and a jaw wired shut, not to mention the emotional impact of such an assault.
I think it's interesting that the state has enabled this behaviour. I think it's interesting that the father of Kathryn Knott is a police chief in Philadelphia who has a history of abusing his privilege to protect his daughter from the reality of what she is (a racist, homophobic, binge-drinking menace to society) and himself from what he is (a bad father), just as corporate media has a history of protecting whites from their thuggery while gladly making sure other races are constantly reminded of theirs.
It's telling that the media have highlighted how the attackers 'turned themselves in.' As if the act of 'surrender' somehow reduces the impact of their assault or improves the character of any of them when the fact is that due to social media intervention they had simply run out of places to hide despite having done so, willingly and successfully, for thirteen days.
It's also telling that while the cultural practice of lynching (which is exactly what homophobia is) among white Americans is still so popular and widespread, it is colloquialized and downplayed and not treated with the same alarm as similar acts of hatred in countries such as Uganda or Jamaica where homosexuals being mobbed and beaten in public places is depicted as an act of barbarism and a human rights violation. Well … it's an act of barbarism and a human rights violation in Middle America too.
The mugshot is the most interesting and telling aspect of all of this. Three young white bigots visibly alarmed that for perhaps the first time in their privileged lives they are being held accountable for their actions.
*
"We're standing here in Philadelphia, the city of brotherly love, the birthplace of freedom, where the founding fathers authored the Declaration of Independence, and I don't recall that glorious document saying anything about all straight men are created equal. I believe it says all men are created equal"

(Ron Nyswaner, Philadelphia, 1993)